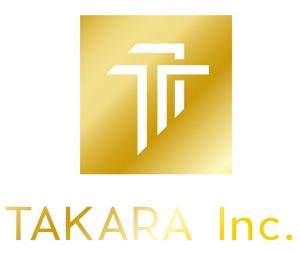 ---
Name: TAKARA Incorporated
Office: 6-12-7 Higashinippori Arakawa Tokyo 116-0014 JAPAN
Date of Establishment: October 13, 2017
Paid-In Capital: ¥10 million (As of October 13, 2017)
President: Masami Nakamura
---
Business Summary
・Duties related to orders for foreign currency exchange and traveler's        checks.
・Payment agent service using the Internet.
・Wholesale, sale, import and export of precious metals, watches, leather goods, accessories, tobaccos.
・Business related to the sale and purchase of various tickets, consulting work related to them.
・Money lending, guarantee and underwriting of obligations, sales of various receivables and other financial services.
・Agency for overseas remittance industry Agency business and fund transfer activities.
・Brokerage, mediation, brokerage and surrogacy and custody of gold bullion.
・Shareholding, trading, other investment business.
・Trading in securities, investment consulting.
・Real estate buying and selling, mediation, lending, leasing, and management.
・Management consultancy business.
・Business related to them.
---
Shop

SUPER RICH JAPAN®︎
Website: http://superrichjapan.com
E-mail: info@superrichjapan.com